The Princess and the Frog



Real Name

Unknown

First Appearance

Unknown

Original Publisher

Folklore

Created by

Unknown
Origin
In the tale, a spoiled princess reluctantly befriends a frog (possibly meeting him after dropping a gold ball into his pond), who magically transforms into a handsome prince. Although in modern versions the transformation is invariably triggered by the princess kissing the frog, in the Brothers Grimm version of the story, the frog's spell was broken when the princess threw it against a wall in disgust. In other early versions, it was sufficient for the frog to spend the night on the princess's pillow.
Public Domain Comic Appearances
Four Color #87
Peter Rabbit #12
Fairy Tales #11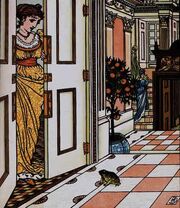 See Also
Ad blocker interference detected!
Wikia is a free-to-use site that makes money from advertising. We have a modified experience for viewers using ad blockers

Wikia is not accessible if you've made further modifications. Remove the custom ad blocker rule(s) and the page will load as expected.