Ad blocker interference detected!
Wikia is a free-to-use site that makes money from advertising. We have a modified experience for viewers using ad blockers

Wikia is not accessible if you've made further modifications. Remove the custom ad blocker rule(s) and the page will load as expected.
Red Cross



Real Name

Dr. Peter Hall

First Appearance

Captain Aero Comics #8 (1942)

Original Publisher

Holyoke / Tem

Created by

Unknown
Golden Age Origin
Dr. Peter Hall was an army captain and a doctor. He fought the Axis powers in occupied France and later in the Pacific as the heroic Red Cross. He had no powers, but used firearms and his fists. His costume was usually red and blue with a "Rx" symbol on his chest.
No one knew he was the Red Cross, not even his close friend Lucy Feller; an army nurse.
Golden Age Appearances
Captain Aero Comics #8-25
Veri Best Sure Fire Comics
Notes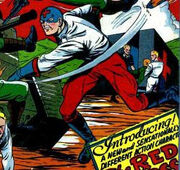 See Also