Ad blocker interference detected!
Wikia is a free-to-use site that makes money from advertising. We have a modified experience for viewers using ad blockers

Wikia is not accessible if you've made further modifications. Remove the custom ad blocker rule(s) and the page will load as expected.
Red Gaucho



Real Name

Unknown

First Appearance

Nickel Comics #4 (1940)

Original Publisher

Fawcett

Created by

Harry Anderson
Golden Age Origin
Red Gaucho was an American who became a famous crime fighter in South America. He had a habit of laughing when he fought and used weapons such as a sword or whip. He fought Communists as wells as enemies such as Furfooz, Tad Cromer, Punchez , and Don Bacco.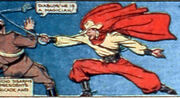 Golden Age Appearances
Nickel Comics #4-7
Master Comics #8-13
See Also