Inter-Planetary Sky Police



Real Name

Inter-Planetary Sky Police

First Appearance

The Comics #6 (February 1938)

Original Publisher

Dell

Created by

Paul H. Jepson
Origin
The Inter-Planetary Sky Police is a law enforcement group active in the year 2500. It is designed to deal with threats within the solar system.
Sky Police Officers
Allies
Enemies
Sky Police Uniforms
Space Patrol uniforms and helmets vary by rank, planetary origin, or type of worker.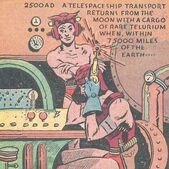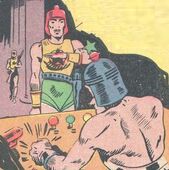 Sky Police Ships
The ships used by the Sky Police are invariably red in color, and are called "telespaceships". Telespaceships can be designed for battle or freight. They are designated as "E-Ship" followed by a number.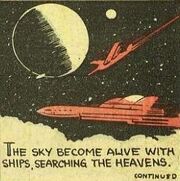 Public Domain Appearances
Ad blocker interference detected!
Wikia is a free-to-use site that makes money from advertising. We have a modified experience for viewers using ad blockers

Wikia is not accessible if you've made further modifications. Remove the custom ad blocker rule(s) and the page will load as expected.