Space Patrol



Real Name

Space Patrol

First Appearance

Space Patrol (1950 TV series)

Original Publisher

ABC television

Created by

Mike Moser, Norman Jolley, Lou Huston
Origin
Space Patrol is a law enforcement agency for the "United Planets", an interplanetary government based on Terra.
Space Patrol personnel
Space Patrol foes
Major Gorla
Lieutenant Kraznoff
Space Patrol allies
Baron Basto
President of Hecuba
Daughter of President of Hecuba
Doctor to President of Hecuba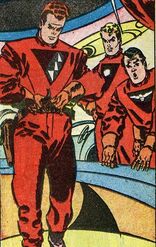 Space Patrol Uniforms
Officer uniforms are Red with white insignia on a black background.
Alternate uniforms displayed as green overalls over red with green background for insignia.
Battle gear consists of Red shirts and pants with blue/gray helmets.
Space Patrol Operations
Public Domain Appearances
Space Patrol #1-2
Space Patrol ABC channel, KECI TV show
Space Patrol radio show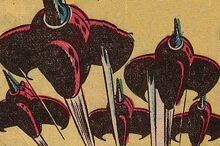 Notes
The comic book and radio show stories tie directly to the Space Patrol television series from 1950-55, of which Buzz Corry, Happy, and the Lady of Diamonds were also regular characters.
The television show is also in the public domain, according to the Festival Films list of PD material.
See Also
Ad blocker interference detected!
Wikia is a free-to-use site that makes money from advertising. We have a modified experience for viewers using ad blockers

Wikia is not accessible if you've made further modifications. Remove the custom ad blocker rule(s) and the page will load as expected.