Ad blocker interference detected!
Wikia is a free-to-use site that makes money from advertising. We have a modified experience for viewers using ad blockers

Wikia is not accessible if you've made further modifications. Remove the custom ad blocker rule(s) and the page will load as expected.
Supermouse



Real Name

SuperMouse

First Appearance

Coo Coo Comics #1 (Sep 1942)

Original Publisher

Standard

Created by

Kin Platt
Golden Age Origin
The mouse known as Supermouse, or Soupie to his friends, got his powers by eating super cheese (which was made from the milk of a super cow)that gave him super speed and strength. He had a wife named Annabel and a nephew named Roscoe. His arch-enemy was a cat named Terrible Tom. He sometimes flew a sentient one-seat aircraft called "Cheesie."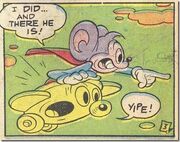 Notes
Along with Mighty Mouse who debuted the same month, Supermouse was the first ongoing funny animal superhero.
Another superpowered mouse was Atomic Mouse from Charlton.
Golden Age Appearances
Coo Coo Comics #1
Supermouse,The Big Cheese #1-45
Supermouse,The Big Cheese Summer Holiday Issue #1
Supermouse,The Big Cheese Giant Summer Issue #2
Santa's Christmas Comics
See Also