Thor

Thor's Battle Against the Jötnar, by Mårten Eskil Winge, 1872.

Real Name

Þórr, Þunor, Thor

First Appearance

Norse Myth

Created by

Norse Folklore
Mythological Origin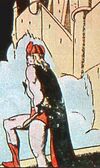 The Norse god of thunder, Thor is the son of
Odin
and the giantess Jörd. His wife is Sif and he had a mistress the giantess Járnsaxa. Thor had two sons, Magni and Modi, and he had a daughter named Thrud. He resides in his hall known as the Bilskirnir which is located in Asgard. the two most famous myths about Thor are the Poetic Edda and the Prose Edda, but he also mentioned in numerous Sagas.
Powers and Abilities
He wield the short-handled hammer, Mjöllnir. His hammer can be thrown like a boomerang and has the power to throw lightning bolts. In order to lift his hammer, Thor wears the belt Megingjord, which gives the wearer super strength and a pair of special iron gloves, Járngreipr. He drives a chariot pulled by the goats Tanngrisnir and Tanngnjóstr.
Public domain literary appearances
Germania, by Tacitus, ca. 98. Due to interpretatio romana, Tacitus refers to Thor with the name of the Greco‐Roman demigod Hercules.
Old Saxon baptismal vow, 9th Century.
Kentish Royal Legend, 11th Century. Thunor kills two young princes and is later swallowed up by the earth.
Gesta Hammaburgensis ecclesiae pontificum, by Adam of Bremen, 11th Century.
Poetic Edda, 13th Century.
Prose Edda, by Snorri Sturluson, 13th Century.
Heimskringla, by Snorri Sturluson, ca. 1230.
A Description of the Northern Peoples, by Olaus Magnus, 1555, first translated into English 1658.
"The Saga of King Olaf," in Tales of a Wayside Inn, by Henry Wadsworth Longfellow, 1863. (Internet Archive)
In the Days of Giants: A Book of Norse Tales, by Abbie Farwell Brown, 1902. (Internet Archive)
Public Domain Golden Age Appearances
Public Domain Silver Age Appearances
Out of This World #11: Charlton's version of Thor was a normal Scandinavian man whose heroic actions became legend.
External links
Ad blocker interference detected!
Wikia is a free-to-use site that makes money from advertising. We have a modified experience for viewers using ad blockers

Wikia is not accessible if you've made further modifications. Remove the custom ad blocker rule(s) and the page will load as expected.