Tiger Man



Real Name

Lt. Robert Benton

First Appearance

Rangers Comics #28 (1946)

Original Publisher

Fiction House

Created by

Rodlow Willard and Eric Marlin
Golden Age Origin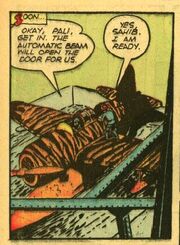 Lt. Robert Benton, a.k.a. Tiger Man, was an athletic private eye who offered to help anyone who dials T-I-G-E-R M-A-N for free. He advertised for his detective services every way he could and his office was called the Tigers Den. Tiger Man had many vehicles such as a Tiger-Plane, Tiger-Car and boat.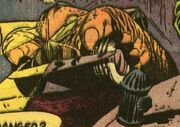 He was aided by Pali, his Pakistani valet. He had no superpowers. He possessed a ring that glowed with light whenever in the presence of danger. Whenever Tiger Man was very angry, an image of a large tiger appears behind him.
Golden Age Appearances
Notes
Both Black Terror and Tiger Man both have the secret identities of Robert Benton.
See Also
Ad blocker interference detected!
Wikia is a free-to-use site that makes money from advertising. We have a modified experience for viewers using ad blockers

Wikia is not accessible if you've made further modifications. Remove the custom ad blocker rule(s) and the page will load as expected.