Tom Corbett, Space Cadet



Real Name

Tom Corbett

First Appearance

Tom Corbett, Space Cadet (Oct. 2, 1950)

Original Publisher

CBS

Created by

Joseph Greene
Origin
Tom Corbett, along with his friends: Astro and Roger Manning, were cadets at the Space Academy as they trained to become members of the elite Solar Guard. The action took place at the Academy in classrooms and bunkrooms, aboard their training ship, the rocket cruiser Polaris, and on alien worlds, both within our solar system and in orbit around nearby stars.
Public Domain Appearances
Television: The character was played by Frankie Thomas, Jr.
CBS from October 2 to December 1950
ABC from January 1951 to September 1952
NBC from July to September 1951
DuMont from August 1953 to May 1954
NBC again from December 1954 to June 1955, with the final broadcast on June 25, 1955
Comic Strips: The Tom Corbett — Space Cadet comic strip, drawn in Milton Caniff style by Ray Bailey, ran Sunday and daily in American newspapers, from September 9, 1951 to September 6, 1953. Paul S. Newman scripted through February 8, 1953.
Literature: 1952 - 1956 published by Grosset & Dunlap. Written under the pseudonym Carey Rockwell, with Willy Ley as technical advisor.
Stand By For Mars (1952)
Danger in Deep Space (1953)
On the Trail of the Space Pirates (1953)
The Space Pioneers (1953)
The Revolt on Venus (1954)
Treachery in Outer Space (1954)
Sabotage in Space (1955)
Comic Books:
Dell Comics (Feb. 1952 - Sept.–Nov. 1954)

Titan Sabotage Dell 4-Color #378
Space Pirates Dell 4-Color #400
Colonist of Space Colony Io Dell 4-Color #421
Lost Race of Asorians Tom Corbett #4
The Smugglers of the Moon Tom Corbett #5
Blue Men of Tara Tom Corbett #6
The Space Traitor Tom Corbett #7
Spaceship Graveyard Tom Corbett #8
The World of Deep Waters Tom Corbett #9
Asteroid Treasure Hunt Tom Corbett #10
The Forbidden Forest Tom Corbett #11
Slavers of Space March of Comics #102
Prize Comics (May, 1955 - Oct. 1955)

Prize TC Vol.2 #1

The Spaceship of Doom
Octopus Tree
The Spaceways of Peril

Prize TC Vol.2 #2

The Outlaws of Uranus
The Invaders
Wolf Planet

Prize TC Vol.2 #3

Dangerous Cargo
The Drifter
The Craters of Mercury
[[File: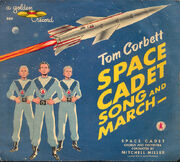 Notes
Radio appearances may not be in the public domain.
There was also a musical recording in 1951 called "Tom Corbett, Space Cadet, Song and March" and other songs ("Tom Corbett Space Cadet At Space Academy," "Rescue In Space" and Tom Corbett Space Cadet Song and March"). These were performed by the Space Cadet Marching Band and released on Golden Sound Records.
See Also
Ad blocker interference detected!
Wikia is a free-to-use site that makes money from advertising. We have a modified experience for viewers using ad blockers

Wikia is not accessible if you've made further modifications. Remove the custom ad blocker rule(s) and the page will load as expected.