Trixie Tryfle

Trixie, along with Imogene the Cow, sleeping while under the spell of the Poppies.

Real Name

Trixie Tryfle

First Appearance

The Wizard of Oz (1902 Stage Production)

Created by

L. Frank Baum
Origin
Trixie Tryfle was an American waitress in Kansas dating Pastoria, a street car conductor. Unbeknownst to her, Pastoria was really the rightful King of Oz who had been banished. When a twister came, it brought Pastoria and Trixie, along with Dorothy Gale and Imogene the Cow (who replaced Toto in the stage adaptation), to the magical land of Oz.
Upon the group meeting the Scarecrow, Tin Woodman, and the Cowardly Lion, Trixie and Pastoria accompanied all of them (and some other new characters) to find the Wizard of Oz. When Pastoria was restored to his Emerald City throne and ordered all who allied with the Wizard to be executed for treason by beheading, Dorothy, the Scarecrow, the Tin Woodman, the Cowardly Lion and the Wizard all escaped. When Dorothy returned home to Kansas, Trixie (along with Imogene) remained in Oz at Pastoria's side.
Public Domain Appearances
The Wizard of Oz (1902 Stage Production)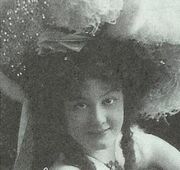 Notes
L. Frank Baum was fond of inserting new characters into adaptations that were not present in his books. Much like Jesseva & Danx, who were inserted into the film, The Patchwork Girl of Oz, it's not really known why he included Trixie in this stage adaptation as, apart from singing a few songs, she really didn't do anything!
Her song "Sammy" was the biggest hit of the show and, like most of the production's libretto, had little or no connection to the plot. Lotta Faust, the actress who portrayed Trixie, would break the "Fourth Wall" for the song, and pitch the love song directly to some (usually married) man in the audience each night, which was always good for laughs at the man's expense.
Ad blocker interference detected!
Wikia is a free-to-use site that makes money from advertising. We have a modified experience for viewers using ad blockers

Wikia is not accessible if you've made further modifications. Remove the custom ad blocker rule(s) and the page will load as expected.