Tweedledum and Tweedledee

John Tenniel's illustration, from Through the Looking-Glass (1871)

Real Names

Tweedledum and Tweedledee

First Appearance

Original Ditties for the Nursery (1805)

Created by

John Byrom
Origin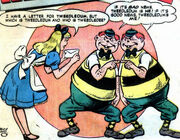 Tweedledum and Tweedledee were characters from an English nursery rhyme and also in Lewis Carroll's Through the Looking-Glass, and What Alice Found There. Their names have also became synonymous in western popular culture as derogatory slang for any two people who look and act in identical ways.
In the original nursery rhyme, Tweedledum and Tweedledee agreed to have a battle because Tweedledum accused Tweedledee of spoiling his nice new rattle. However, after a monstrous crow frightened them both, they forgot their quarrel.
In Lewis Carroll's Through the Looking-Glass and what Alice Found There (1871), the two fat little men are portrayed as twins who enact and quote their nursery rhyme for Alice. They also tell her the story of the Walrus and the Carpenter.
Public Domain Literary Appearances
Original Ditties for the Nursery
Through the Looking-Glass and What Alice Found There
A New Alice in the Old Wonderland
Public Domain Comic Appearances
Alice #1-2
World's Greatest Stories #1: Fairly faithful adaptation of Lewis Carroll's story,Through the Looking Glass.
The Adventures of Alice #2
Notes
Only the original versions of nursery rhyme and Wonderland versions of Tweedledum and Tweedledee are in the public domain subsequent versions such those used by DC and Disney are NOT.
Tweedledum & Tweedledee appeared in Disney's version of Alice in Wonderland despite the fact that the movie was mostly based on the first book.
See Also
Ad blocker interference detected!
Wikia is a free-to-use site that makes money from advertising. We have a modified experience for viewers using ad blockers

Wikia is not accessible if you've made further modifications. Remove the custom ad blocker rule(s) and the page will load as expected.