U.S. Jones



Real Name

Unknown

First Appearance

Wonderworld Comics #28 (August 1941)

Original Publisher

Fox Features

Created by

Bob Farrow & Louis Cazeneuve
Origin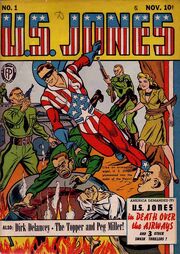 U.S. Jones was a patriotic crime fighter with no powers. His real name, if he had one, was never stated. He was assisted by a friend called the Grumbler. He eventually became a government-sponsored Secret Service agent. His enemies included the White Killer and Black Snake.
Public Domain Appearances
Wonderworld Comics #28-33
U. S. Jones #1-2
See Also
Ad blocker interference detected!
Wikia is a free-to-use site that makes money from advertising. We have a modified experience for viewers using ad blockers

Wikia is not accessible if you've made further modifications. Remove the custom ad blocker rule(s) and the page will load as expected.