Venus



Real Name

Venus

First Appearance

Unknown

Original Publisher

Greek Mythology

Created by

Unknown
Origin
Venus (or Aphrodite in Greek myth) was the Goddess of Love and Beauty in Greco-Roman mythology. She is also one of the Twelve Olympians.  She is the wife of Vulcan (Hephaestus), sometimes depicted as the daughter of Jupiter (Zeus) and at other times, she is said to have spontaneously sprung from the remains of a Titan.  She is the mother of Eros (Cupid) and Aeneas. She was also the lover of Mars (Ares) and Adonis.
Public domain literary appearances
Iliad (poem), by Homer, ca. 760–710 BC.
Theogony (poem), by Hesiod, ca. 700 BC.
Tannhäuser (opera), by Richard Wagner, 1845.
Ancient Manners (Aphrodite: Mœurs antiques), by Pierre Louÿs, 1896. (Internet Archive)
Aphrodite (musical), libretto by Louis de Gramont, music by Camille Erlanger, 1906. (Internet Archive)
Aphrodite (opera), libretto by Hans Liebstoeckl, music by Max von Oberleithner, 1912.
Public Domain Comic Appearances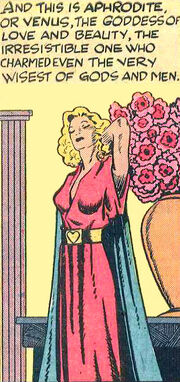 National Comics #32: Zeus looks to Venus to entertain the Gods while the humans wage their World War.
Boy Comics #10: As World War II rages, the other gods find themselves powerless as Mars gains in might. Yankee Longago helps Venus make people fall in love again.
See Also
Ad blocker interference detected!
Wikia is a free-to-use site that makes money from advertising. We have a modified experience for viewers using ad blockers

Wikia is not accessible if you've made further modifications. Remove the custom ad blocker rule(s) and the page will load as expected.