Vooda



Real Name

El'Nee

First Appearance

Voodoo #2 (July 1952)

Original Publisher

Ajax-Farrell

Created by

Matt Baker & Lee Stokes
Origin
A re-printed and re-named version of the South Sea Girl, Ajax-Farrell originally called the character "El'Nee" however, to comply with the recently instated Comics Code Authority (who would not have approved the word, "Voodoo"), the character (and series) was re-named "Vooda" in 1955.
Public Domain Appearances
Voodoo #2, 19 (as El'Nee)
Vooda #20-22 (as Vooda)
See Also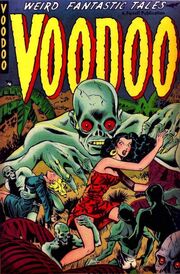 Ad blocker interference detected!
Wikia is a free-to-use site that makes money from advertising. We have a modified experience for viewers using ad blockers

Wikia is not accessible if you've made further modifications. Remove the custom ad blocker rule(s) and the page will load as expected.