The Whirlwind



Real Name

Terry Turner

First Appearance

Daredevil Comics #2 (August 1941)

Original Publisher

Lev Gleason

Created by

Dick Wood & Bernard Klein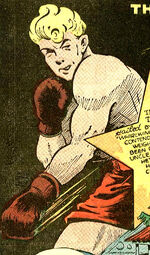 Origin
Terry Turner was a rising star in the boxing world who won most of his fights by knockout. He trained in Hollywood at the estate of his movie star manager, Jackie Wings. Terry took on all challengers in the ring and had many adventures outside the ring. During World War II, he joined the military and fought matches during his furloughs.
Public Domain Appearances
Ad blocker interference detected!
Wikia is a free-to-use site that makes money from advertising. We have a modified experience for viewers using ad blockers

Wikia is not accessible if you've made further modifications. Remove the custom ad blocker rule(s) and the page will load as expected.