Ad blocker interference detected!
Wikia is a free-to-use site that makes money from advertising. We have a modified experience for viewers using ad blockers

Wikia is not accessible if you've made further modifications. Remove the custom ad blocker rule(s) and the page will load as expected.
Whiz Wilson



Real Name

Whiz Wilson

First Appearance

Sure-Fire Comics #1(1940)

Original Publisher

Ace Periodicals

Created by

Unknown
Golden Age Origin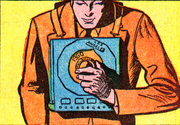 With the aid of his Futuroscope, Whiz Wilson, a young scientist/adventurer, can project himself to any given place and time in the future and with a twist of a dial return to his labratory in the year 1940.
He operated out of a laboratory in New York City with his sweetheart Adelaide.
Golden Age Appearances