Ad blocker interference detected!
Wikia is a free-to-use site that makes money from advertising. We have a modified experience for viewers using ad blockers

Wikia is not accessible if you've made further modifications. Remove the custom ad blocker rule(s) and the page will load as expected.
Wild Bill Hickok



Real Name

James Butler Hickok

Born

May 27, 1837

Died

August 2, 1876
Historical Background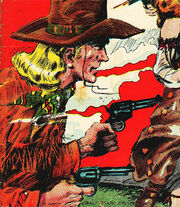 Hickock had a range of jobs during his life in the west, from stagecoach driver to actor to scout for General George A. Custer. He is most notorious for his life as a lawman and gunfighter, and for being assassinated during a poker game in the dangerous town of Deadwood.
Hickock was a highly skilled and extremely deadly gunfighter. At one point he was arrested for killing a man in a duel, but he was acquitted. He killed quite a few men in his lifetime.
Public Domain Comic Appearances
Star Ranger Funnies #v2#1
Crime Does Not Pay #22
Hit Comics #31
Atoman Comics #1
Cowboy Western Comics #17-21, 23, 25, 27, 31-34, 50-67
Desperado (1948 series) #4
Wild Bill Hickok (Avon) #1-28
Prize Comics Western #v9#1 (80)
Black Diamond Western #20
Tim Holt #28, 39
Red Ryder Comics #136
Blazing Six Guns #1
Six-Gun Heroes #6-8, 38-43, 46-54
Badmen of the West #1-2
Kit Carson #8
Jesse James #29
Wild Bill Hickok #1-5
Wild Bill Hickok and Jingles #68-75
Black Fury #1, 3-5, 10
Masked Raider #5, 10
Buster Crabbe Comics #2, 8
See Also