Wildfire



Real Name

Carol Vance Martin

First Appearance

Smash Comics #25 (1941)

Original Publisher

Quality

Created by

Robert Turner and Jim Mooney
Golden Age Origin
Carol Vance Martin was orphaned by a huge forest fire but received her powers from the god of fire after he rescued her.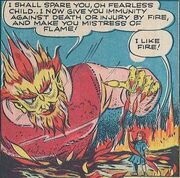 She was later adopted by the wealthy Martin family, and the teenage super heroine decided to use her powers to combat not only criminals, but also saboteurs and even supernatural menaces.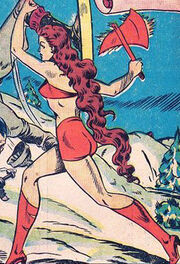 She had the power to control or create flames and could also fly.
Enemies
Fire Devil and the Cult of Fire
Golden Age Appearances
See Also