Ad blocker interference detected!
Wikia is a free-to-use site that makes money from advertising. We have a modified experience for viewers using ad blockers

Wikia is not accessible if you've made further modifications. Remove the custom ad blocker rule(s) and the page will load as expected.
Wyatt Earp



Real Name

Wyatt Earp

Born

March 19, 1848, Monmouth, Illinois

Died

January 13, 1929, Los Angeles, California
Historical Background
Wyatt Earp is a legendary lawman of the old west. Originally from Iowa, Earp's adventures took him all over the American Southwest. He and his brothers, along with their ally, Doc Holliday, participated in the famous "Shootout at the O.K. Corral" in Tombstone, Arizona. Earp's enemies included the Clantons and Johnny Ringo. Although his brothers did not fare as well, Earp was never wounded during his entire career as a lawman.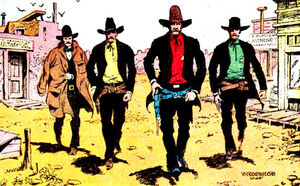 Golden Age Appearances
Western Picture Stories #4
Desperado #3-4
Cowboy Western Comics #19
Western Adventures #[3]
The Westerner Comics #26, 32
Buffalo Bill #9
Best of the West #7
Black Diamond Western #46
Jesse James #17
Wyatt Earp Frontier Marshal #12-28
Texas Rangers in Action #12
Six-Gun Heroes #48-54
Masked Raider #5, 21
See Also