Xaxol



Real Name

Xaxol

First Appearance

Police Comics #9 (May, 1942)

Original Publisher

Quality

Created by

Alex Kotzky
Origin
Xaxol was a warrior hired by The Voodoo Queen to help her destroy Manhunter. However, he grew angry with her when she began to whip him mercilessly, and used his morning star to crush his skull. He was last seen in a burning building after battling himself.
Xaxol was apparently not very bright, but he was extremely strong, and his right hand had been replaced with a morning star. He also carried a sword.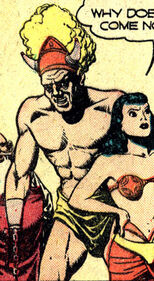 Golden Age Appearances
Police Comics #9-10
Ad blocker interference detected!
Wikia is a free-to-use site that makes money from advertising. We have a modified experience for viewers using ad blockers

Wikia is not accessible if you've made further modifications. Remove the custom ad blocker rule(s) and the page will load as expected.