Yarko the Great



Real Name

Yarko

First Appearance

Wonder Comics #2 (1939)

Original Publisher

Fox

Created by

Will Eisner
Origin
Yarko the Great was a talented stage magician but, secretly, also a real mage. Using his vast magical abilities, he battled criminals and supernatural forces such as the Devil and the personification of Death.
Powers and Abilities
Yarko possessed force field projection, duplication, shape-shifting, invisibility, intangibility, exorcism, telekinesis, levitation, and whatever else the plot required.

He had one weakness, though - he could not use his magic unless he could see.
Public Domain Appearances
Wonder Comics #2
Wonderworld Comics #3-33
Blue Beetle #1
Samson #4-5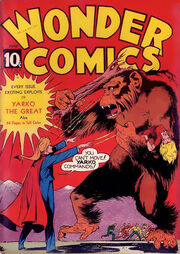 Notes
See Also
Ad blocker interference detected!
Wikia is a free-to-use site that makes money from advertising. We have a modified experience for viewers using ad blockers

Wikia is not accessible if you've made further modifications. Remove the custom ad blocker rule(s) and the page will load as expected.